The New Lexus RX: Better Than Ever Before
The all-new Lexus RX line is set to release in 2023 and will feature hybrid models. This marks a shift in the luxury SUV market, as more and more manufacturers are releasing hybrid vehicles.
The RX hybrid will offer buyers the best of both worlds: the luxurious feel of a Lexus with the fuel efficiency of a hybrid. Keep reading to learn more about the all-new RX line and what it has to offer.
The New 2023 Lexus RX Premium
The new 2023 Lexus RX is the luxury SUV you've been waiting for. Built on a solid platform and packed with safety features, it is the latest and greatest from this luxury carmaker.
The redesigned exterior boasts bold lines, improved aerodynamics, and a sophisticated look, while luxurious interiors are loaded with amenities like brushed aluminum trim and dramatic accents.
A 275-horsepower turbocharged engine and 8-speed transmission offer smooth performance and plenty of power. The cutting-edge infotainment system keeps you connected with Apple CarPlay, Android Auto, and Amazon Alexa integration. It also comes with an array of driver-assist technologies, like adaptive cruise control, lane-keeping assistance, and automatic emergency braking.
Plus, the spacious cargo space offers plenty of storage room for all your adventures. Of course, the real stars of the show are the powerful engine options and advanced driver-assistance systems that ensure optimum performance and an unbeatable driving experience.
Whether you're headed off on an epic road trip or simply to the store down the street, with sleek styling, state-of-the-art technology, and an array of luxury appointments, there's no better way to travel than in a Lexus RX.

The new Lexus UX and RX Hybrid models
The new UX and RX Hybrid models feature a 2.5L hybrid powertrain, giving you the perfect combination of power and efficiency. With up to 32 city/41 highway mpg, you'll be able to drive further while saving money on fuel costs.
The new Lexus hybrids also feature an advanced suite of driver assistance systems such as dynamic cruise control, lane keeping assist, and the Lexus Safety System+. All of this technology helps you stay safe on the roads, while giving you an enjoyable experience behind the wheel.
Inside, both models feature a 12.3" multimedia display with Apple CarPlay® compatibility and Amazon Alexa connectivity, allowing you to stream your favorite audio and access navigation functions right from the dashboard.
You can also stay connected with Bluetooth® hands-free phone capabilities and available Wi-Fi hotspot. The intuitive touchpad controller also makes it easy to control your multimedia settings without ever taking your eyes off the road.
Whether you're looking for a practical hybrid SUV that offers plenty of power and efficiency, or a sleek and responsive sedan for your daily commute, new RX and UX models from Lexus have you covered.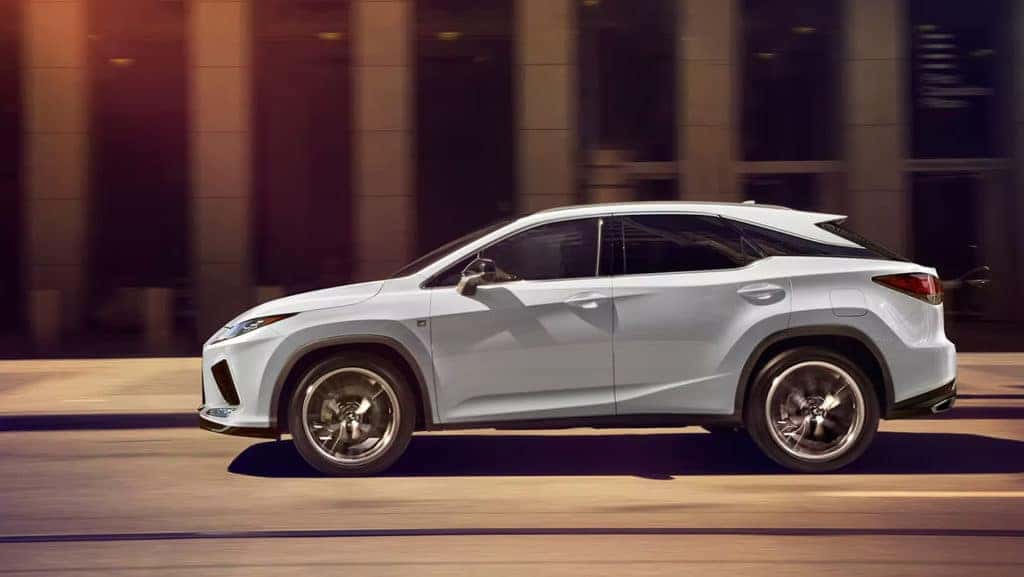 The Lexus RX HYBRID PREMIUM+
The Lexus RX Hybrid Premium+ offers exciting features and amenities perfect for the modern driver.
This reliable mid-size crossover was designed for comfort and convenience with its power adjustable driver's seat, heated leather upholstered front seats, dual-zone automatic climate control, and tilt-and-telescope multifunction steering wheel with mounted controls to make sure you have access to all the vehicle's functions right at your fingertips.
For entertainment, there's an 8″ touchscreen display integrated with Bluetooth®, Apple CarPlay®, and Amazon Alexa® compatible voice recognition technology that provides hands-free access to your music library, navigation assistance, and more.
The electric powertrain offers 275 total system horsepower for a smooth and responsive ride. It's engineered for confidence with all-wheel drive, torque vectoring, and driver assistance features like Forward Collision Warning and Automatic Emergency Braking to help keep you safe on the road.
There's even an advanced safety system with lane departure alert, dynamic radar cruise control, and pedestrian detection warning with active brake assist that can help keep you safe on the road.
The Lexus RX HYBRID PREMIUM+ is the ideal solution for anyone wanting a reliable mid-size crossover with luxury features that make every drive more enjoyable.
The Lexus RX F Sport Handling
The Lexus RX F Sport Handling vehicle is designed to provide drivers with an exhilarating and responsive performance. Its specialized adaptive variable suspension, brakes, steering, and body structure all work together to deliver exceptional handling in any driving environment.
With a 0-to-60 time of just 5.9 seconds and a top speed of 135 mph, it's no surprise that the RX F Sport is perfect for those who crave high performance.
The stiffer spring rates allow the vehicle to handle more aggressively while also reigning in tighter cornering. The spool valve suspension adjusts accordingly to make sure the driver's experience is not compromised by road terrain or surface conditions.
In addition, its larger brakes offer greater stopping power along with shorter braking distances on slippery surfaces. Couple this with its Active Cornering Assist, an innovative system that helps the vehicle grip the road during cornering, and you get a well-rounded performance package.
RX F Sport also features enhanced aerodynamics for superior stability at higher speeds. Its low drag coefficient aids in reducing wind resistance and turbulence around the car.
Overall, the RX F Sport is equipped with features that prioritize control and agility — making it a great option for those looking for a powerful driving experience.
Book your test drive today with Lexus of Freehold
Experience the unbeatable power, performance, and handling of the new 2023 Lexus RX by test-driving it today.
Contact us to book a test drive or come on down to our Lexus dealership in Freehold, NJ, and surrounding areas like Monroe, NJ, or  Princeton, NJ.
We'll be happy to get you behind the wheel and show off what this remarkable vehicle can do.